So this post is being written on June 27 since I'm going on vacation for the weekend.
Unfortunately, that means I can't guarantee that these books will still be on sale by the time of publish. I'm sorry, I know, I suck. But I'm at the beach, so…
I haven't found many new sales since last week that have caught my eye. But, these are all really, really, really awesomesauce books, and quality trumps quantity, ya know?
As always, if you know of any great books on sale, leave a link in the comments!
How did I find these?
I subscribe to a few newsletters that email you a list of books that are free or on sale. It's great. Even though I usually end up buying more books that way, I still probably save because books on my wish list are frequently listed, and I know to buy them sooner rather than later. You can sign up for the newsletters here, here, and here. I also browse the Daily Deal and sale sections of Amazon.
How did I pick these?
A lot of these are books I can personally recommend because I've read them. In those cases, I'll tell you why you should read them.
Other books are just ones that I think look interesting and have added to my to-read list as I was writing this post!
Onto the Deals!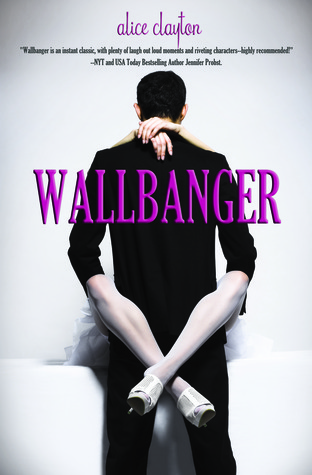 Wallbanger by Alice Clayton – on sale for $2.99
By reading my review of Rusty Nailed, Wallbanger's sequel, you can probably tell this is one of my all-time favorite books.
Description: The first night after Caroline moves into her fantastic new San Francisco apartment, she realizes she's gaining an intimate knowledge of her new neighbor's nocturnal adventures. Thanks to paper-thin walls and the guy's athletic prowess, she can hear not just his bed banging against the wall but the ecstatic response of what seems (as loud night after loud night goes by) like an endless parade of women.
And since Caroline is currently on a self-imposed dating hiatus, and her neighbor is clearly lethally attractive to women, she finds her fantasies keep her awake even longer than the noise. So when the wallbanging threatens to literally bounce her out of bed, Caroline, clad in sexual frustration and a pink baby-doll nightie, confronts Simon Parker, her heard-but-never-seen neighbor. The tension between them is as thick as the walls are thin, and the results just as mixed. Suddenly, Caroline is finding she may have discovered a whole new definition of neighborly…
Friends Without Benefits by Penny Reid – on sale for $1.99
Another one of my favorites! As I mentioned in my Neanderthal Marries Human review, this is my favorite book out of the 4 Knitting in the City Books so far!
Description: There are three things you need to know about Elizabeth Finney: 1) She suffers from severe sarcastic syndrome, especially when she's unnerved, 2) No one unnerves her like Nico Manganiello, and 3) She knows how to knit.
Elizabeth Finney is almost always right about everything: the musical merits of boy bands are undervalued by society, "benefits" with human Ken dolls are better without friendship, and the sun has set on her once-in-a-lifetime chance for true love. But when Elizabeth's plans for benefits without friendship are disarmed by the irritatingly charismatic and chauvinistic Nico Manganiello- her former nemesis- she finds herself struggling to maintain the electric fence around her heart while avoiding electrocution or, worse, falling in love.
Left Drowning by Jessica Park – on sale for $1.99
So, honestly, I've only read the free excerpt of this but I love Jessica Park. Now that it's on sale, I'll be buying the whole thing!
Description: Weighted down by the loss of her parents, Blythe McGuire struggles to keep her head above water as she trudges through her last year at Matthews College. Then a chance meeting sends Blythe crashing into something she doesn't expect—an undeniable attraction to a dark-haired senior named Chris Shepherd, whose past may be even more complicated than her own.
As their relationship deepens, Chris pulls Blythe out of the stupor she's been in since the night a fire took half her family. She begins to heal, and even, haltingly, to love this guy who helps her find new paths to pleasure and self-discovery. But as Blythe moves into calmer waters, she realizes Chris is the one still strangled by his family's traumatic history. As dark currents threaten to pull him under, Blythe may be the only person who can keep him from drowning.
Seductive Nights Trilogy Bundle by Lauren Blakely – on sale for $2.99
These books are ah-mah-zing and I had to go through paying for each one separately, AND waiting for the different stories as they came out. Consider yourself lucky. Read these and then get ready for the next installment coming out next week!
Description:
First Night: When a sinfully handsome man walks into her bar in San Francisco, Julia Bell simply wants a break from the troubles that keep chasing her. That escape comes in the form of sexy, confident and commanding Clay Nichols, who captivates her mind AND turns her inside out with pleasure. They share one scorchingly hot night together, but discover a connection that runs deeper than mere chemistry….
Night After Night: Their world was sex, love, and lies. He intoxicated her. Commanded. Consumed. With a dirty mind and a mouth to match, Clay Nichols is everything Julia never knew she wanted and exactly what she cannot have. He walked into her life one night and unlocked pleasure in her that she never knew was possible. Possessing her body, captivating her every thought. Which makes him way too dangerous for Julia to risk her heart, given that she has a price tag on her head. She ran after one mind-blowing week with him, but now he's back, and determined to make her his own. No matter the cost. She was a sexy drug to him. Fiery, unforgettable, and never enough, Julia is an enigma, and Clay isn't willing to let her go without a fight. But she's got dark secrets of her own that threaten to destroy any chance of happiness. She's a wanted woman – the stakes are high, her every move is watched, and yet the lure between them can't be denied. Can two people burned by love trust again when desire and passion are met by danger at every turn?
After This Night: Their world was passion, pleasure and secrets. Far too many secrets. But Clay Nichols can't get Julia Bell out of his mind. He's so drawn to her, and to the nights they shared, that he can't focus on work or business. Only her. And she's pissing him off with her hot and cold act. She has her reasons though-she's trying to stay one step ahead of the trouble that's been chasing her for months now, thanks to the criminal world her ex dragged her into. If only she can get out of this mess, then maybe she can invite the man who ignites her back in her life, so she can have him-heart, mind and body. He won't take less than all of her, and the full truth too. When he runs into her again at her sister's wedding, they have a second chance but she'll have to let him all the way in. And they'll learn just how much more there is to the intense sexual chemistry they share, and whether love can carry them well past the danger of her past and into a new future, after this night…
If I missed any awesome books that are on the cheap right now, be sure to leave recommendations in the comments!