Hey everyone! I'm SO excited about what I have for you today.
If you've been on social media lately, you've probably seen a post or two about The Ripped Bodice.
If you haven't, here's the lowdown. The Ripped Bodice is aiming to become the first bookstore in the US to exclusively sell romance. Yes, that's right. All romance. A whole store! Amazing, right? I would not mind getting locked in there (one of my biggest irrational fears is getting locked in a store all night, because of a cartoon I saw when I was 5).
Right now, they're running a Kickstarter campaign to raise $90,000. They've got 6 days left and less that $15,000 to go. Let's help them get funded!
I love this idea so hard it hurts. First of all, even a small bookstore has a buttload of books. The idea of being in one where they're all romance has me ready to buy a plane ticket now. Plus, hobbies are so much more fun when you have a community to enjoy them with! We have our little corners of the internet, but a lot of bookworms wish we could hang out IRL more frequently!
I've always watched things like Empire Records and High Fidelity and wished I had a "place" like that to hang out, whether it was centered around books, TV, or music.
So of course, I marked their campaign's launch date on my calendar as soon as I heard about it. I needed to make sure to back the project before the perk I wanted sold out! I did get it, and omg, I'm so excited for that romance nerd swag! Different pledge levels have different rewards like t-shirts and hoodies, sponsoring an object in the store (like a bookshelf), your name in a romance novel, and other pretty creative things.
If one thing's obvious from checking out The Ripped Bodice, it's that founders (and sisters) Bea and Lea Koch deserve a big, slow clap. There's a good chance I'll never get across the country to check it out in person, but that didn't stop me from backing as much as I could afford. Places like this need to exist.
I wanted to learn more about the duo and this idea that they had, so I got in touch for a Q&A. 🙂 Get to know them below and check out what they're trying to do!
1. As a startup girl, I love that you launched on Kickstarter. How has that whole launch experience been so far?
Leah: Kickstarter has been fantastic. It is such a revolutionary system for young entrepreneurs. We wanted to use Kickstarter from the beginning because instead of having to prove you are worthy to investors or banks, you are trying to prove you are worthy to the people who will actually shop in your store. A much better use of time and energy in my opinion.
Bea: It's been awesome to have such an open dialogue with our funders and those interested in funding. The downside is that we have been pretty much glued to our computers/phones while the campaign runs, and it takes a lot of time to keep track of everything coming in! But it's so worth it. This is our dream and we wanted to figure out a way to make it happen – Kickstarter has given us that.
Bumblings note: Woooo Kickstarter! Also known as the reason my bank account shrivels up almost every Friday morning, when I get my weekly picks email from them. Some friends and I are brainstorming a project that I really want to try crowdfunding for!
2. When – not if 😉 – you get funded, which parts of setting up and opening the store are you most excited for? I imagine you girls each have certain tasks that you're calling dibs on.
Bea: Thank you for your confidence! I am most excited to design the space. I am obsessed with Pinterest and have found a whole new use for it in planning for the store. We have endless conversations about what wallpaper we should put in the bathroom and why it is clearly essential that we have a chandelier somewhere in the store.
Leah: I am very excited about getting to decorate the store for different holidays. I am very into seasonal cheer! We have plans for each major holiday (and some not so major) that include special displays and decorations.
Bumblings note: Sounds so fun! A chandelier is definitely a must, even a mini one. And if you get one, you have to get a matching Dance Moms Maddie for the launch party. 😛
3. What were some of the first (or most memorable) romance novels you've read?
Bea: I cannot for the life of me remember my first romance novel, and I've been trying ever since we had the idea for this store! I think one of my most memorable was when I discovered Julia Quinn's Bridgerton series. I just loved those siblings and their relationships with each other, as well as the love stories. I am obviously very close to my sister (and our wonderful brother too!) so I loved seeing those sibling relationships explored.
Leah: Nora Roberts changed everything for me. After I picked up one of her books I had to go read everything else she had ever written, which is quite a lot but I've done my best! My absolutely favorite series of hers is The Bridal Quartet and it is the first thing I recommend to anyone who asks for suggestions about what to read.
4. Which subgenres are your favorite at the moment, and which books from them?
Leah: I have been exploring the New Adult subgenre lately, which is protagonists ages 18-25, many of which take place in college. I really like reading about people navigating their first love and at least the ones I have read tend to be really funny. I absolutely loved The Deal by Elle Kennedy and Breathe by Abbi Glines kicks off a great series.
Bea: I've always read Regencies, and I probably always will. I like reading from other subgenres every once and awhile but Regency is my passion. I am currently obsessed with Tessa Dare's Castles Ever After series. The conceit is so clever, but it never overpowers the love stories.
5. If you got to lock yourself in your room with one book, one food, one drink, and one rando item, what would they be?
Amazing question!
Leah: I know I should say a romance novel but it would probably be Bossypants by Tina Fey. Plus a french baguette, white grape juice, and my cat Clementine (Do I get to have food for her in this scenario? Otherwise that would be very mean)
Bea: Pride and Prejudice, french fries, pamplemousse La Croix. My random item…. I'll choose my boyfriend. But he can't have any french fries.
Bumblings note: I could totally lock myself in a room with Tina Fey. Or her book. Either's fine. I'm locked in a room watching her show right now. I dressed up as her other show for Halloween. Good God, Lemon! Bea, you are going to have one hangry boyfriend on your hands!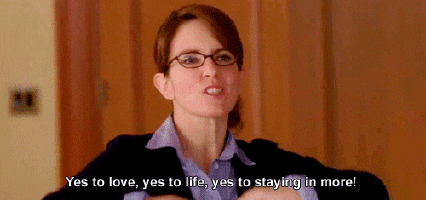 6. I read in your HuffPo Q&A that you two mostly read from different genres. But what books are you totally on the same page with (pun intended!)?
Leah: This summer our family hiked across England together and we switched books. I got Bea into the Christina Lauren Beautiful series and she introduced me to the aforementioned Castles Ever After.
Bea: Leah told me to read the Christina Lauren Beautiful series while we were hiking across England this summer and it totally motivated me because I knew at the end of the day there was this other world waiting for me. I'd say our tastes tend to be more similar outside of romance. We both love comedians' books, like Mindy Kaling's Is Everyone Hanging out Without Me?
Bumblings note: Christina Lauren! MINDY! We're soul sisters. 🙂 Most of the non-fiction I own is by female comedians haha – Amy, Tina, Chelsea, Mindy, Rachel, the girls are all here!
7. My readers can always tell which show I've been Netflixing based on the TV references in my reviews (3 of which this month mention Shonda Rhimes). What was your latest bingewatch?
We both just did Master of None! We looooooved it. Before that, Leah did Parks and Recreation and Firefly and Bea did Hart of Dixie and Jane the Virgin. Our all time favorites: Gilmore Girls, West Wing, The Office… did we mention we love TV almost as much as we love romance novels?
Bumblings note: Oy with the poodles already! It's decided, we're going to be BFFs. I fall asleep to Parks and Rec every night and have a custom-made Tux & Flipper illustration. And I still have my Gilmore Girls boxed sets despite Netflix because I can't part with the special features or pop culture guides. (My life goal is to write something that needs its own pop culture guide 😛 ) I haven't started Master of None yet, since I'm waiting til Thanksgiving to watch it with my own sister!